Write everything you need in the
documentation editor
Documentation editor enables you to write project requirements, assign tasks and track the progress – all in one page!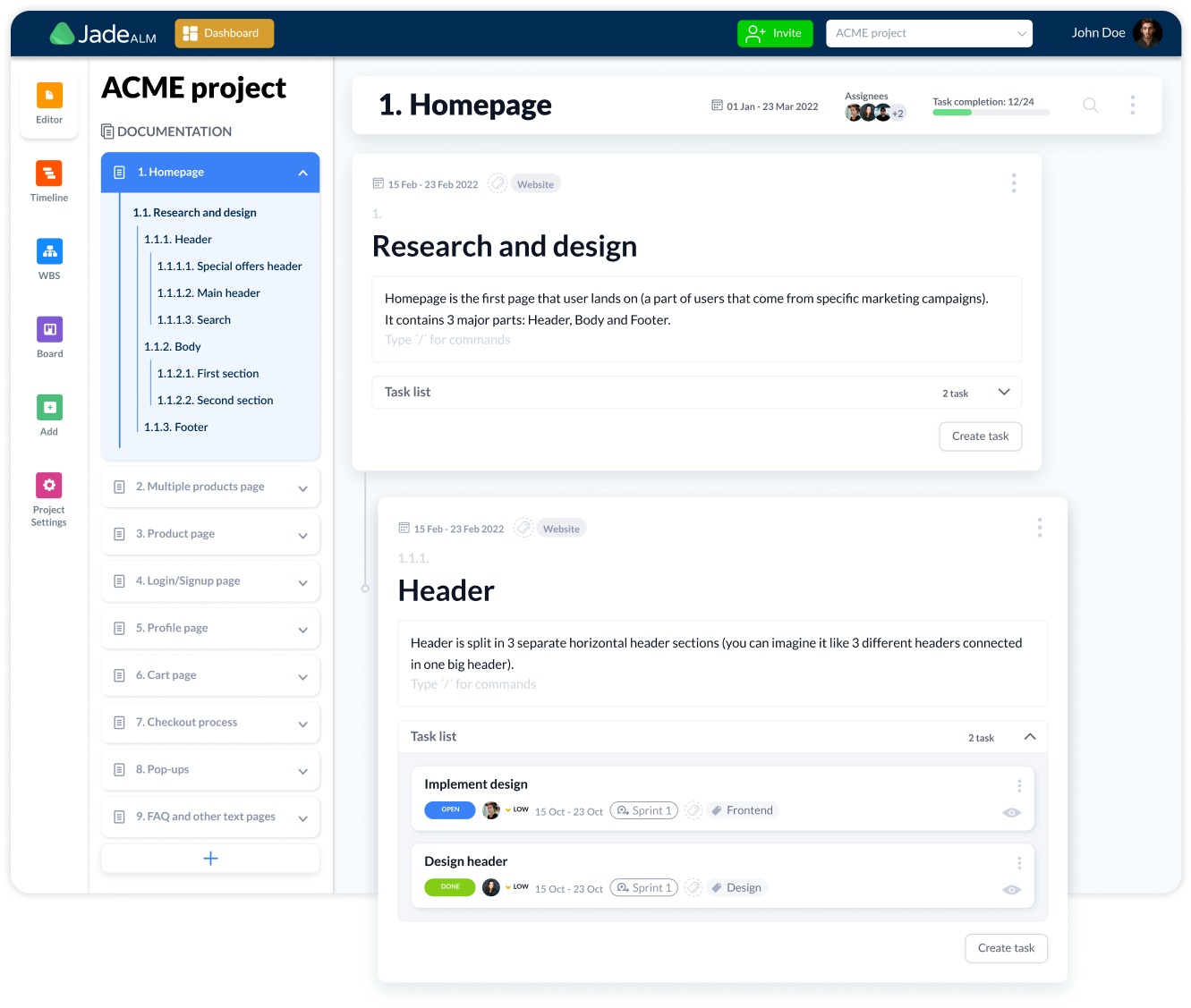 Don't be afraid to start writing –
everything you write is flexible
DOCUMENT
Set your keyboard on fire!
Use space for writing a description of your user story, format with Markdown support, and add blocks of code. In JadeALMs documentation editor you can attach files and share mockups as well. Note down everything you need and write the heck out of the project!
NAVIGATE
Easily navigate through the table of contents
Simple as in Google Docs, the table of contents helps you to quickly navigate through the overall project. With the scroll option, you can go through all tasks and subtasks. Click on heading or subheading and open the content you need.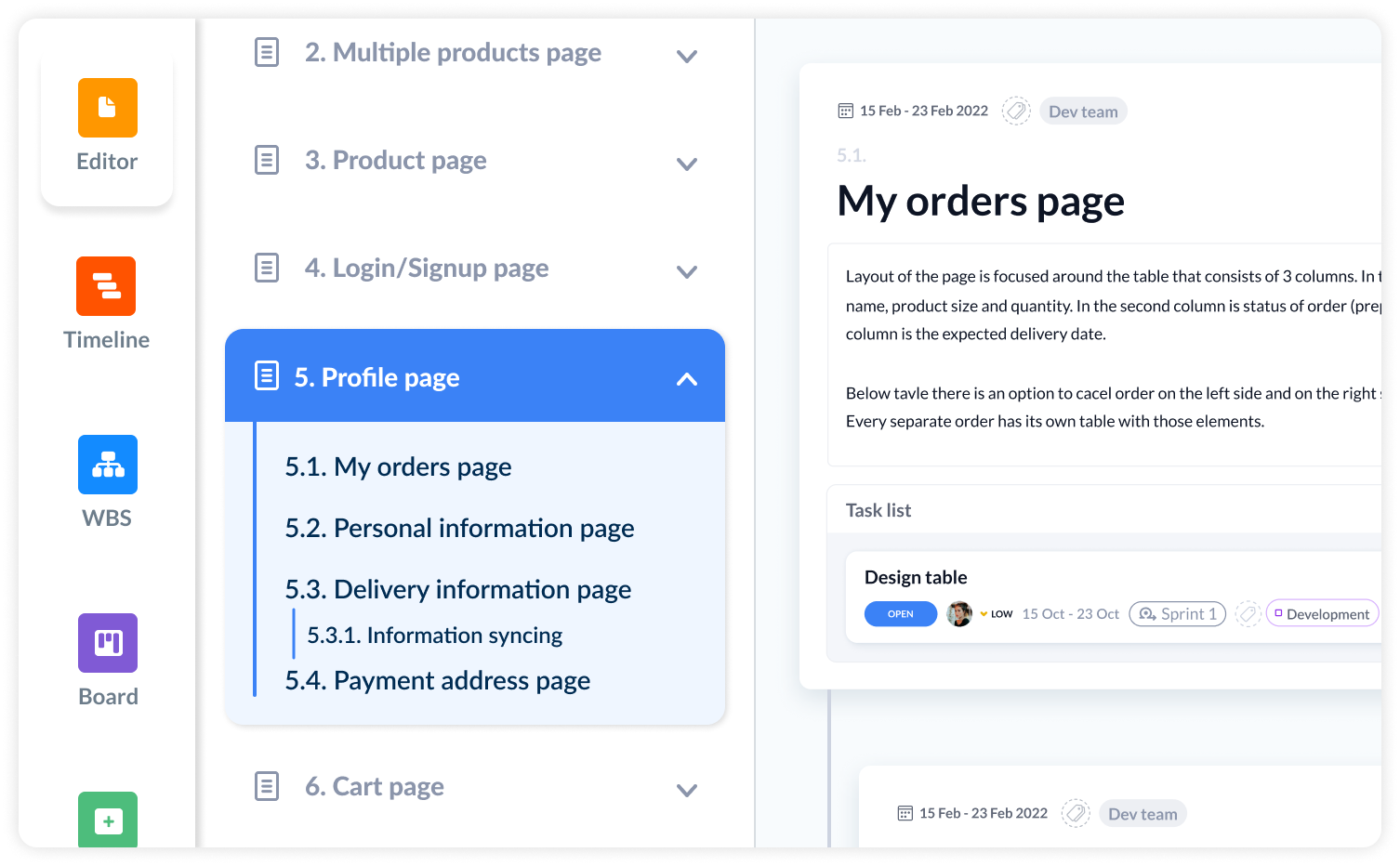 TRACK
Keep all task information in one place
Be aware of task progress, sprints, and assignees management.
You can track tasks and have a bird's eye on everything at the same place.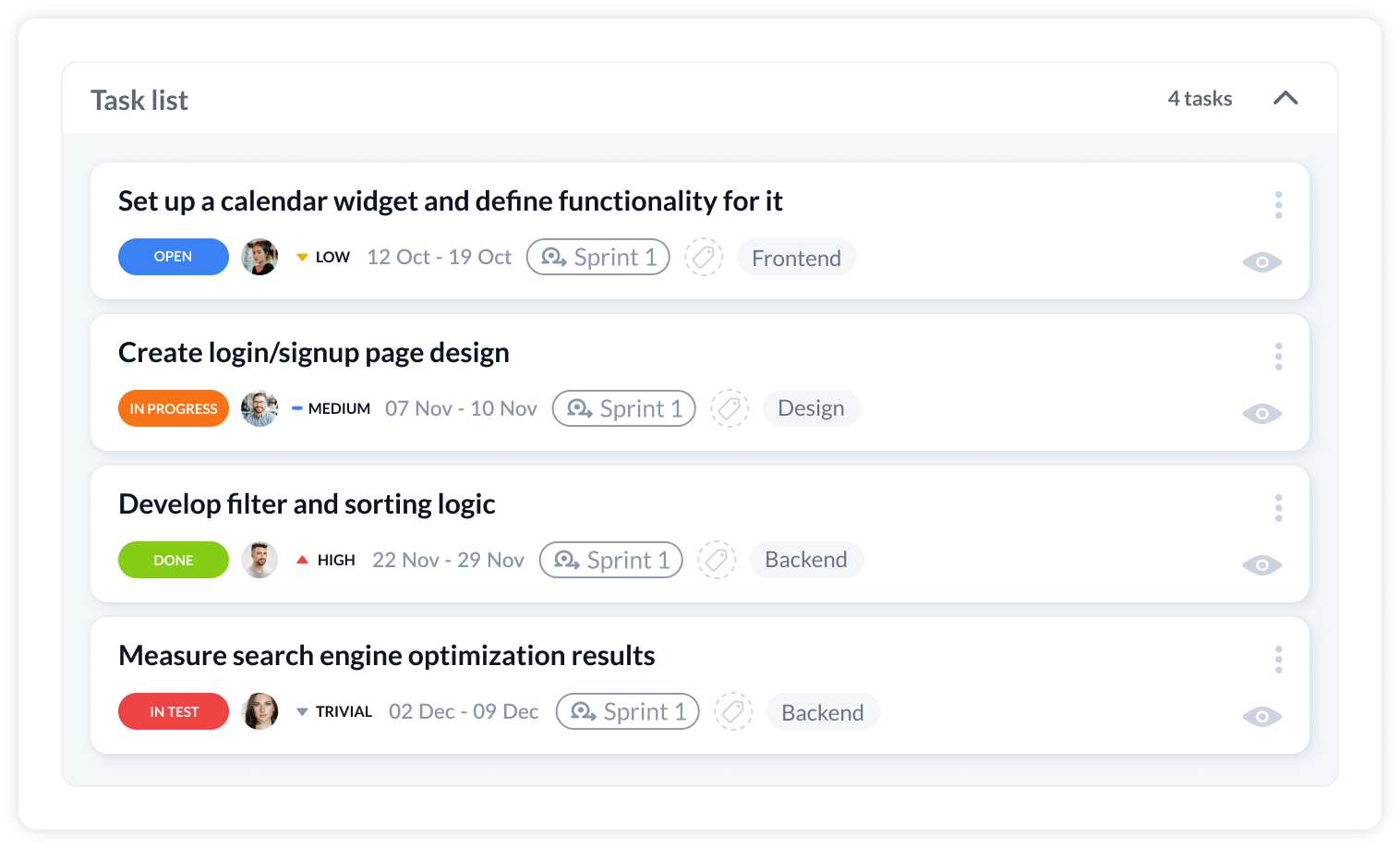 SYNCHRONIZE
Synchronize the content with WBS
Not only does the table of contents give you an overview of the bigger picture, but it is also synchronized with the WBS chart. Everything you write in the documentation editor will be visible in graphical representation.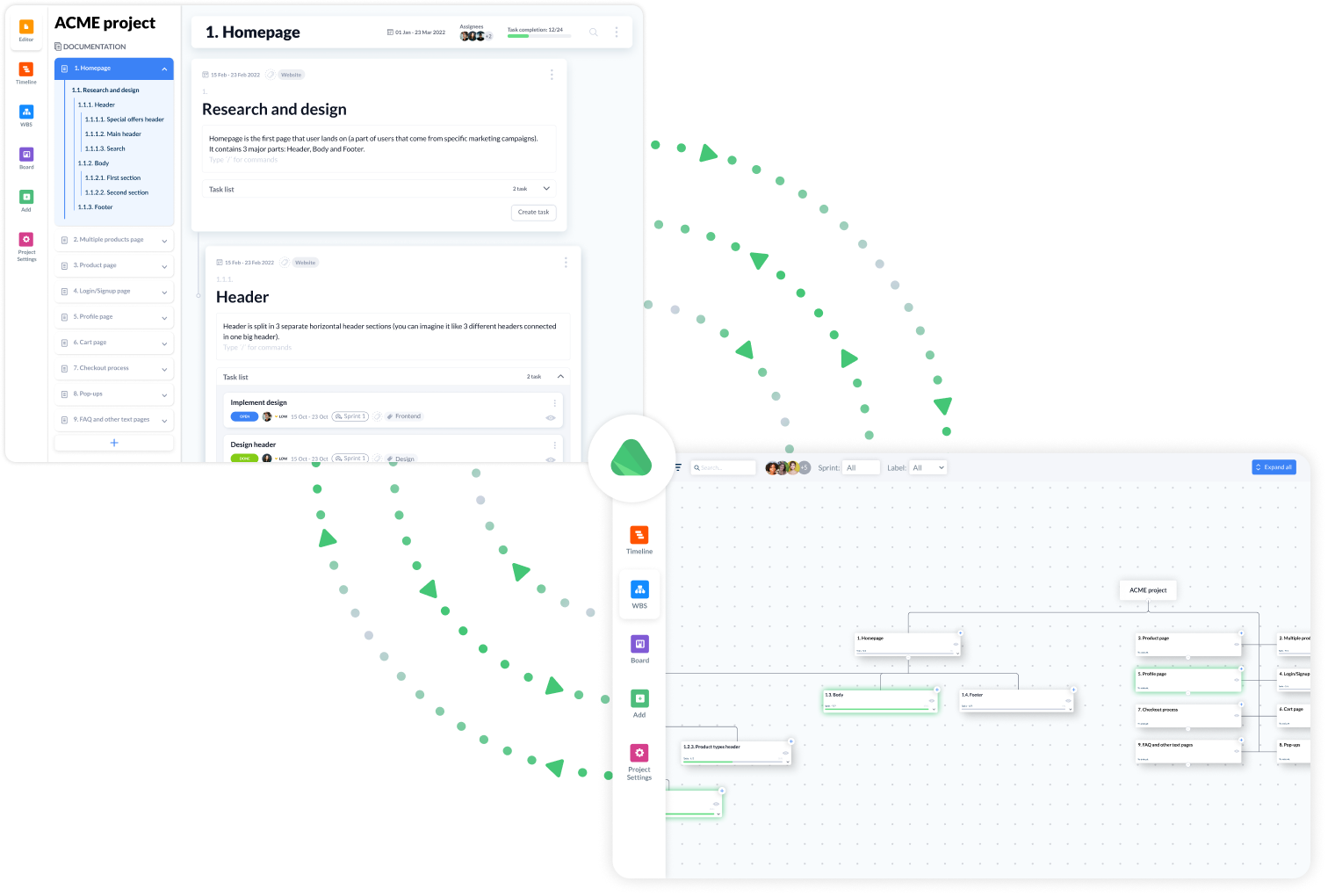 Caption
Synchronize the content with timeline
Everything you write down in the space for writing, you can also see in the timeline. There is no need to manually update the timeline. Save your time with automatic synchronization of the documentation editor!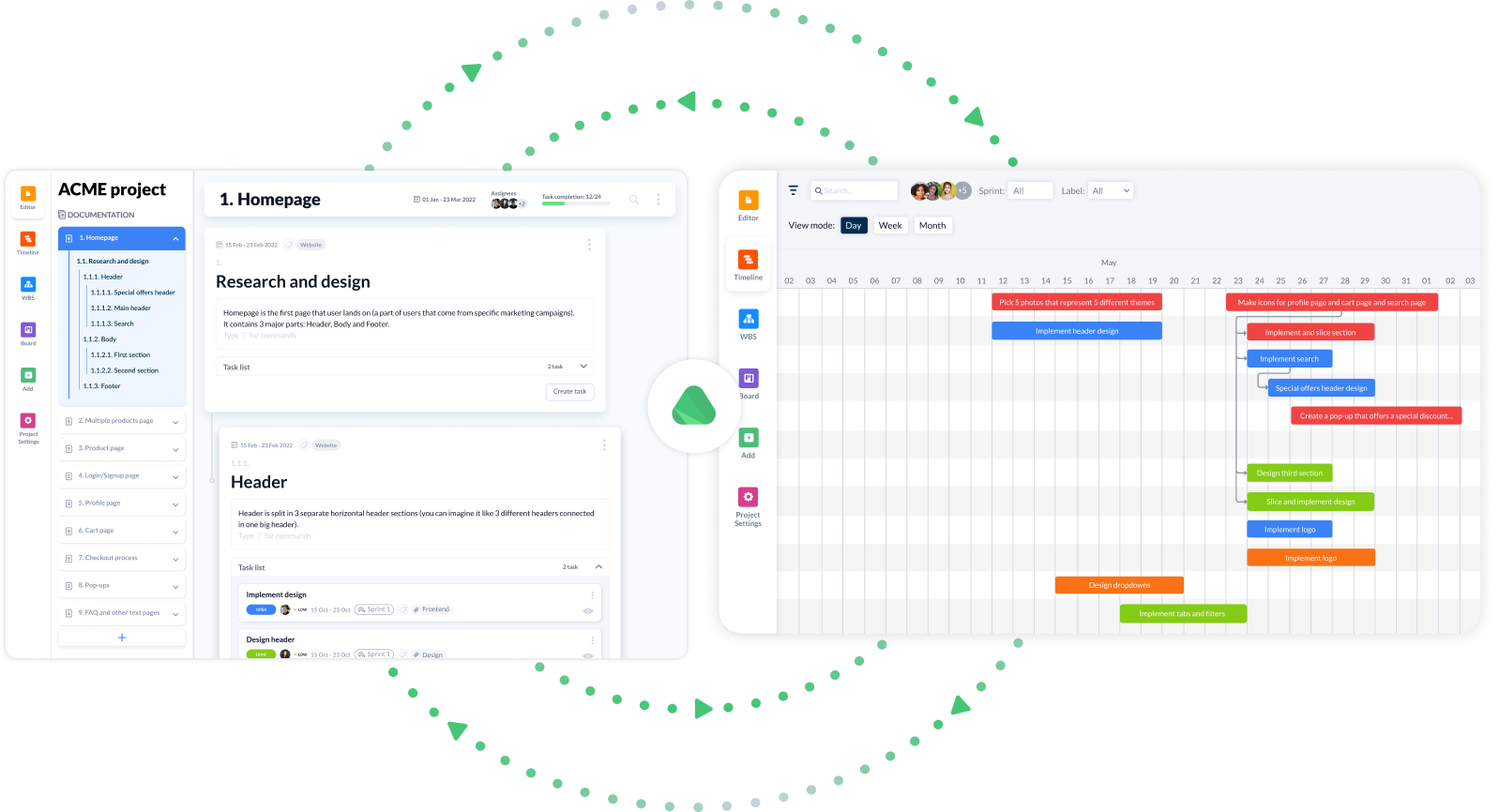 Choose your plan
One price per project – All of Jade!
3 members – on project
Free
✓  Up to 3 members on one project
✓  Requirements management
✓  Project decomposition
✓  Roadmap planning
✓  Task management
Get Started
Complete team toolbox
49€ / project / per month
✓  Unlimited team members
✓  Requirements management
✓  Project decomposition
✓  Roadmap planning
✓  Task management
Get Started
Get your team on the same page
with
JadeALM!
Simple and straightforward pricing that truly scales with your business.
Replace several tools with one integrated solution at a fraction of the price!