Let JadeALM's
feature tracking
possibilities

be your strengths
Feature planning and feature tracking give you the bigger picture. With JadeALM, you can
finally plan the whole feature without losing the context on the way.

Get started
No more wondering if the issue tracking is sufficient
HIERARCHY
Ensure simple hierarchy and dependency management
Some features are simple and others aren't. No matter their complexity, JadeALM helps you to see the forest from the tree by giving you a clear hierarchy. The hierarchy that is easy to create follows all project views and documentation.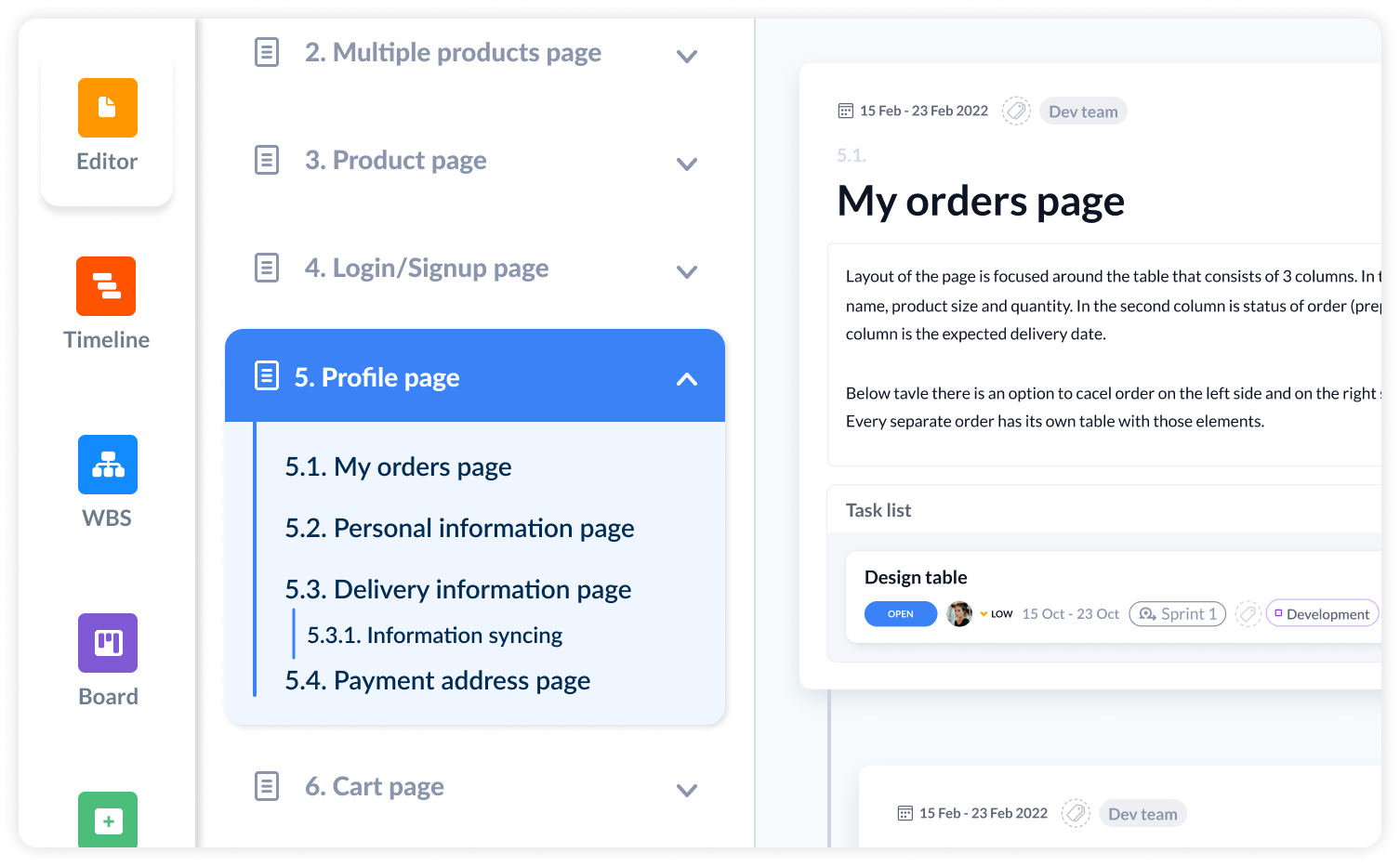 TRACK
Use feature and section history tracking
Plan and make reasonable decisions with a clear audit trace of how the feature evolves. JadeALM enables you not to just track the feature, but to also have an overview of all feature components' history. JadeALM is not only a documentation hub, it offers a powerful historical trace of how every part of the project evolved.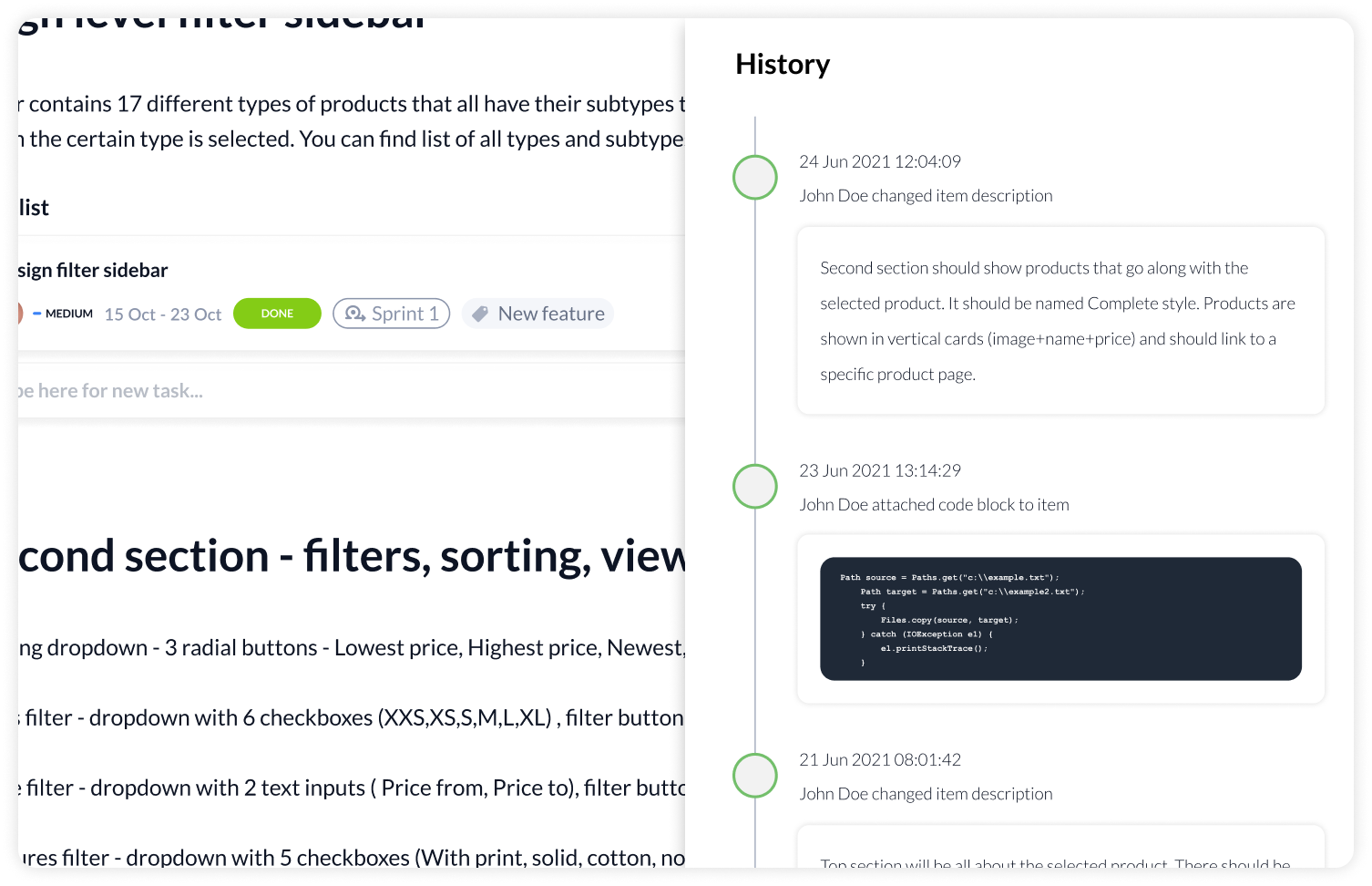 SYNC
Automate sync of requirements and tasks
With feature requirements constantly changing it becomes almost impossible to keep everything and everyone up to date with the latest changes. Or at least it was! JadeALM automatically updates all Tasks with any changes in Requirements relevant to that Task!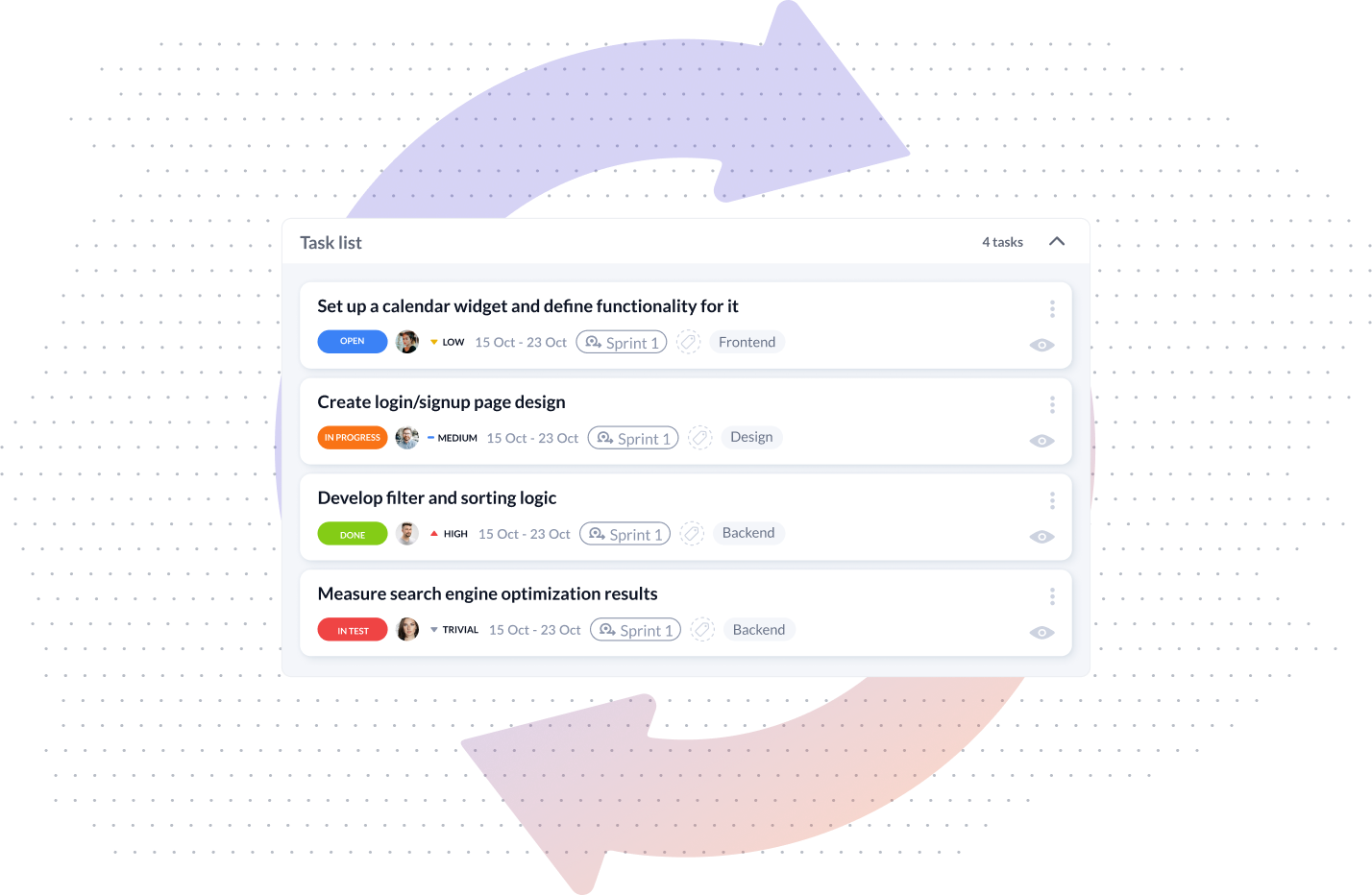 DEVOLEPER-FRIENDLY
Go beyond assigning tasks
Assigning tasks is helpful, but tools that enable just that are not developer-friendly. JadeALM lets you write requirements directly in the Documentation editor, attach files, share mockups, add comments, and even add blocks of code. A whole host of Markdown support lets you use a slash ( / ) to write commands faster and easier.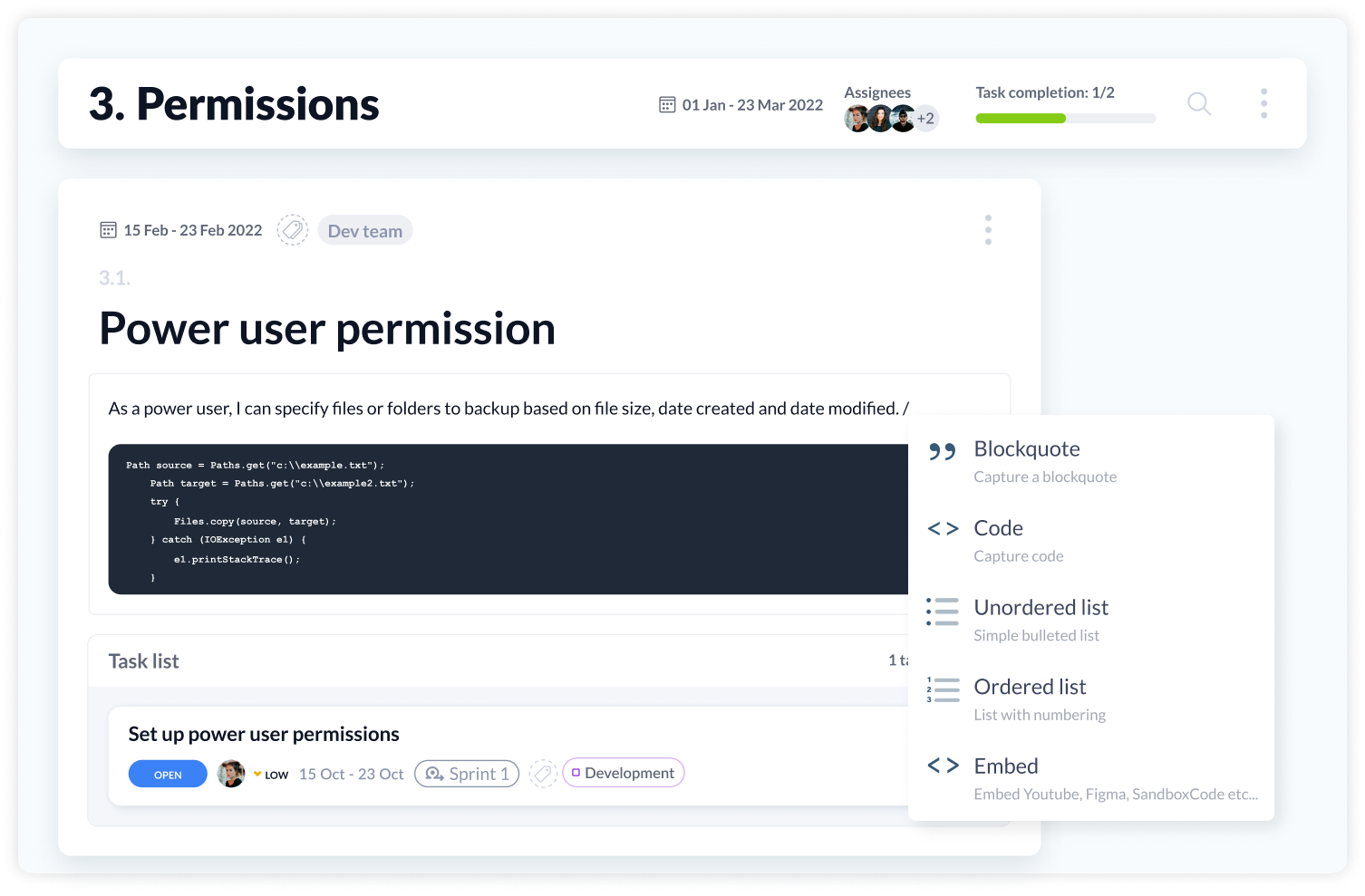 Keep all disciplines on the same page
Go from just tracking tasks and user stories to tracking an entire feature.
Get meaningful information on how your feature is progressing across multiple teams.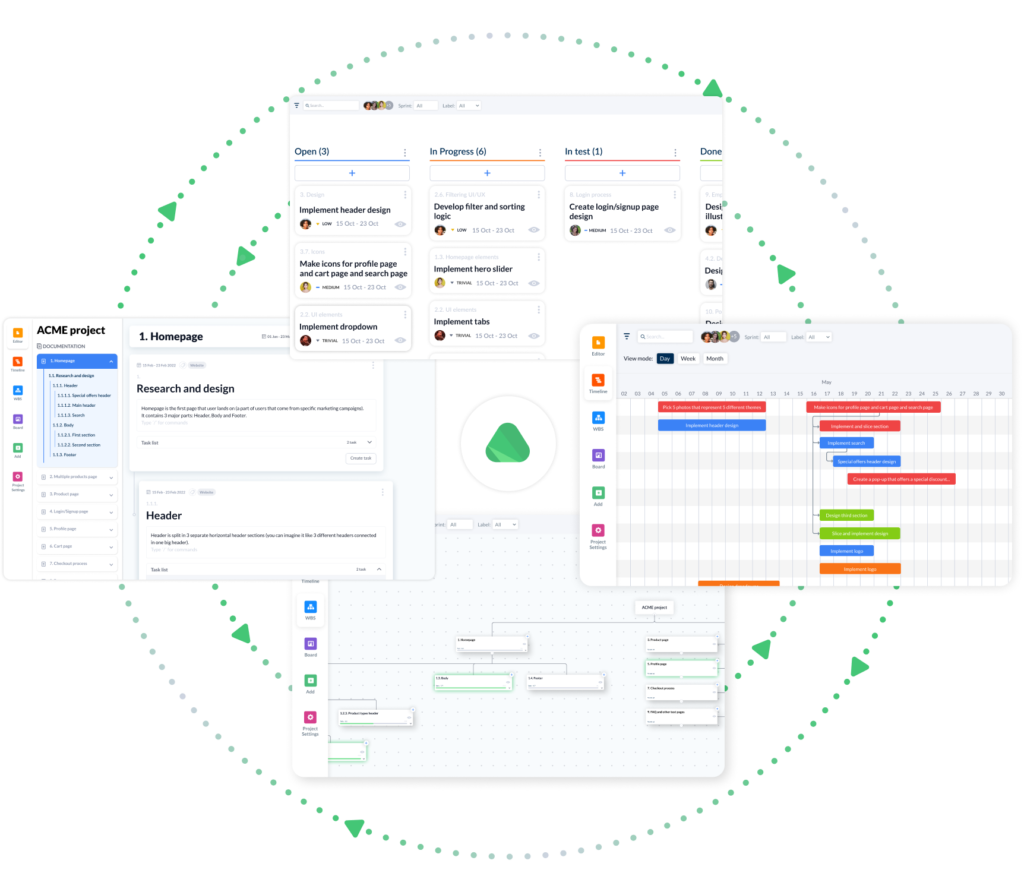 Choose your plan
One price per project – All of Jade!
3 members – on project
Free
✓  Up to 3 members on one project
✓  Requirements management
✓  Project decomposition
✓  Roadmap planning
✓  Task management
Get Started
Complete team toolbox
49€ / project / per month
✓  Unlimited team members
✓  Requirements management
✓  Project decomposition
✓  Roadmap planning
✓  Task management
Get Started
Get your team on the same page
with
JadeALM!
Simple and straightforward pricing that truly scales with your business.
Replace several tools with one integrated solution at a fraction of the price!