Handle
complex project
with
simple tool
JadeALM lets you overview the entire development process and save time on handling requirements.
Plan, track and visualize your project from the first idea to production and beyond – painlessly.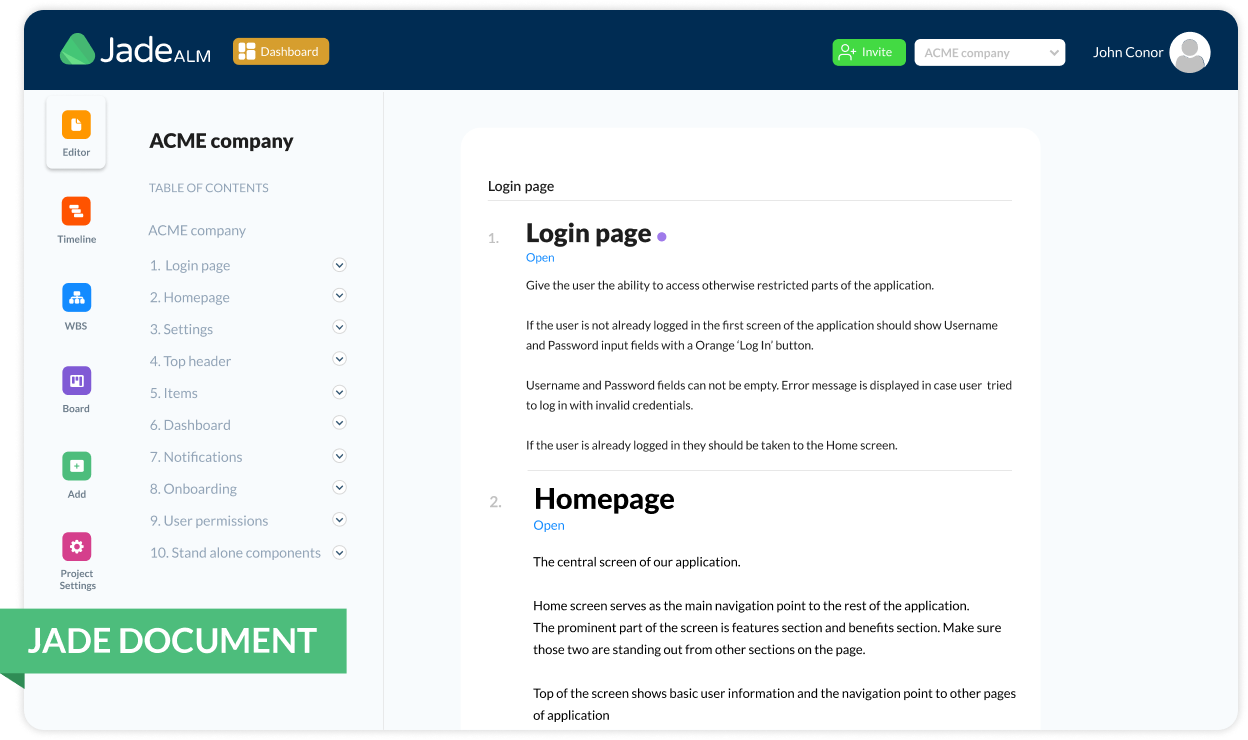 Sprint and Board
Quickly view and track ongoing work with Project Board and Sprints.
WBS (Work Breakdown Structure)
From high level to minute detail,get a bird's eye view on your complete project!
Timeline
Roadmap is pre-generated from the content in the document. Just decide when things need to be finished!
Make project management simple
and
save time

for developing
Benefits accross the whole team
STAY ORGANIZED
All vital information in one structured place
ACHIEVE CLARITY
No more countless tasks impossible to keep track of
REDUCE MANUAL WORK
Tools are connected and in constant sync
CUT OVERHEADS
One tool supporting the whole application lifecycle
Product Owner
Focus only on the most important aspects of your product. With JadeALM you have new ways of tracking the impact of your priorities to the product roadmap.
Business Analyst
Save hours digging through old emails or Slack trying to find the most basic answers about your project. Never again copy-paste anything to your issue tracking tool!
Quality Control
Requirements that are always in sync with Test scenarios! With built in test runs save days preparing test suites and focus on making sure the product works flawlessly.
Project manager
Stay on top of everything happening in your project. Easily prepare a roadmap, prioritize issues and track progress.
Developers
No more missing information or last minute changes that never get documented. With JadeALM you always know exactly what you need to do and by when.
Stakeholders
Big picture overview of the current project state and a clear historical path of how you got here. JadeALM gives you complete visibility and transparency over your project development progress.
How it works
Manage project requirements with ease
Start writing your requirements
Create tasks directly from the document
Tasks are synced across all views (Gantt - WBS - Board)
Features
all connected and in one place
Improve your software development process
Get early access and a Demo walkthrough from the founders.
Have an early effect on the product roadmap!
Get started
Choose your plan
One price per project – All of Jade!
3 members – on project
Free
✓  Up to 3 members on one project
✓  Requirements management
✓  Project decomposition
✓  Roadmap planning
✓  Task management
Get Started
Complete team toolbox
49€ / project / per month
✓  Unlimited team members
✓  Requirements management
✓  Project decomposition
✓  Roadmap planning
✓  Task management
Get Started
Get your team on the same page
with
JadeALM!
Simple and straightforward pricing that truly scales with your business.
Replace several tools with one integrated solution at a fraction of the price!
FAQ
What is Application Lifecycle Management (ALM)?

Application lifecycle management (ALM) is the product lifecycle management (governance, development, and maintenance) of computer programs. 

It encompasses requirements management, software architecture, computer programming, software testing, software maintenance, change management, continuous integration, project management, and release management.

How is JadeALM different from classic project management tools?

Classical project management are one-size-fits-all solutions that usually revolve around Issues or Tasks as the main building block to organise collaboration.

While easy to start with, this quickly falls short in the context of managing software development projects since several key factors can't easily be integrated into this simple mindset.

JadeALM focuses on providing a simple and easy to understand process and provides all essential tools that software teams need to execute successfully.

Requirements management, Roadmapping, Product decomposition and Quality control – completely in sync and provided in a simple to understand flow, all managed with one of the simplest interfaces that exist – blank sheet of (digital) paper.

How to convince my team to try JadeALM?

You can feel that your current process is not working, you know your team can do better – but don't know what's the real reason. You've tried several things already to no avail. Changing tools is a commitment that you don't have time to do now!?

We've been there, but with JadeALM we've gone so far to create something that never existed before just to get rid of that feeling of being stuck in tooling hell!

Jade introduces a simple and straightforward process that is somewhat different from current Issue Tracking solutions. It's laser focused on unique challenges software development teams and projects are faced with!

Team behind JadeALM has hundreds of finished projects behind them, from simple websites, to full startup product development to enterprise solutions. We've run into every obstacle there is, and we're creating a tool that focuses on making a sane software development process.

Send us an email to support[at]jadealm[dot]com, let us know what doubts or questions you have and we'll do our best to give you the information and knowledge to explain the real value JadeALM provides to software development teams and projects.

Is JadeALM free?

JadeALM is completely free so start with! You have full access to JadeALM for the first three weeks, no credit card needed, and you can always cancel your subscription.

JadeALM offers a full featured, free interactive Demo where you can get to know how JadeALM works before committing to something more!
Blog