Criteria For Software Selection in Project Management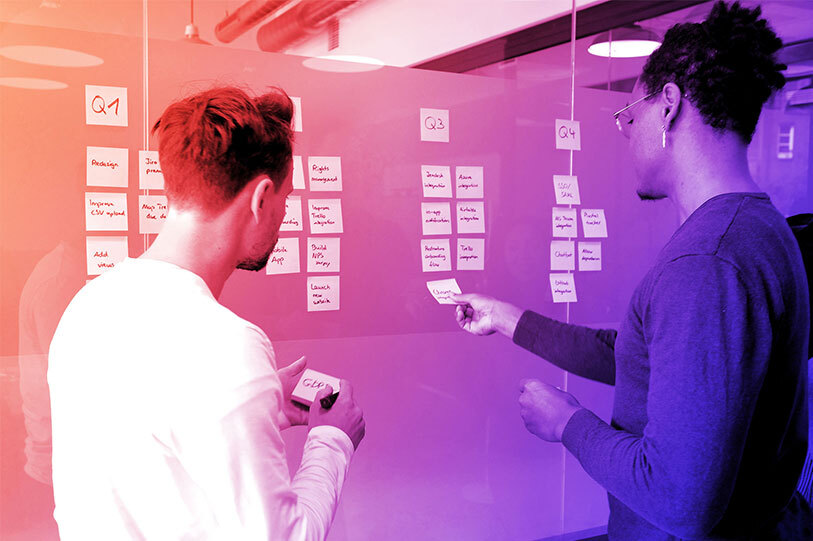 Have you realized what is going on in the project management industry? There are more and more project management software solutions and more and more unsatisfied users. To choose the right one, you need to set the right criteria for software selection in project management. Your decision will impact your future project's success, collaborations, and work storage.

Before you start checking out what options are there, you need to make sure you know what you are looking for.
Benefits of project management software
The most often stated benefit of project management software is an estimation of the timeline. This benefit helps 60% of the project managers to reach better efficiency by implementing more realistic deadlines. The next most helpful benefit is to effectively use project resources. Project management tools help 55% of managers to better assign work to team members.

Also check: 🚀 28 FREE Project Management Software To Use in 2022 🚀
Causes for dissatisfaction with project management software
Although PM tools improve work in many aspects, there are still many project management software challenges. If they don't overcome these challenges, teams often face dissatisfaction. Some of the project management software challenges are following:
Poor peer-to-peer learning
Peer-to-peer workshops require a safe environment, a coordinator, and real examples. Often its time consuming and many organizations reduce it.
Cross-functional collaboration
The second challenge that teams using PM software need to overcome is cross-functional collaboration. A lot of tools on the market provide only issue tracking. Issue tracking makes each team member be focused on their issue. Also, each team member needs to be educated about terminologies.

There are not many tools that provide solutions for this challenge. For example, JadeALM manages that with feature tracking. Here, all team members are focused on a common goal. Also, cross-functional collaboration doesn't require a special setup.
Detailed process documentation
A lot of project management tools lack space for detailed process documentation. Although agile doesn't require heavy documentation, omitting one causes problems. Also, team members can have some bad habits in documenting requirements.
Vendors support
Vendors want to sell you the products. Sometimes they don't have well-organized training sessions for you and your team. Sometimes the demo is not enough and the team needs more instruction to use the tool.
How to choose criteria for software selection in project management?
Project management software evaluation criteria are something that you should do carefully. In the following lines, we stated the most important PM software evaluation criteria and how to make them.
Software popularity
Popularity? Are we in high school competition or software management requirements? Even though this criterion seems irrelevant, it is a growing criterion in project management software evaluation.

One of the reasons is that the project management industry is constantly growing and it continues with the great effects of remote work. Additionally, it resulted in a lot of new PM tools on the market. In order to distinguish a tree from the wood, many users just go with what worked for others. Some of the popular tools with many features are for example ClickUp and Jira.
Some Inshights of Popularity
Software popularity as a factor in PM evaluation grew from 2% in 2015 to 8% in 2021. Correspondingly, functionality as an evaluation factor fell within the last 5 years. In 2015 functionality was the most important criteria to 36% while in 2021 only 21% of teams state functionality as the most important factor.
While the popularity factor is, dissatisfaction with the software has increased as well. However, we can't blame it all on popularity and prestige. It is also a fact that less than 40% of people responsible for choosing the PM tool watch more than 2 demos before final purchase.

When choosing project management software, you want to look for an experienced and reliable vendor with a long track record. Ideally, someone with experience in managing real projects.
The other thing about the vendors is what kind of support they provide. Check in advance whether they guarantee an in-time response or not.

Feature tracking
Improving cross-functional collaboration is one of the biggest project management software challenges. Having in mind that nearly 60% of project teams are cross-functional teams, you can easily see why.

This means that most teams have the challenge of mixing and mingling the assignments of resources.

One of the things that help with that is feature tracking. Teams that work with Scrum are flexible with their workflow. However, when it comes to insight into what is next, Scrum doesn't provide a good answer. This is the reason why more and more development teams find agile dead.
In agile, a project is divided into chunks and every team member has to work with their work unit. Different agile methodologies may help with that. Often they don't know how much more needs to be done to complete the project. With no certain due date, the scope can change easily and without control.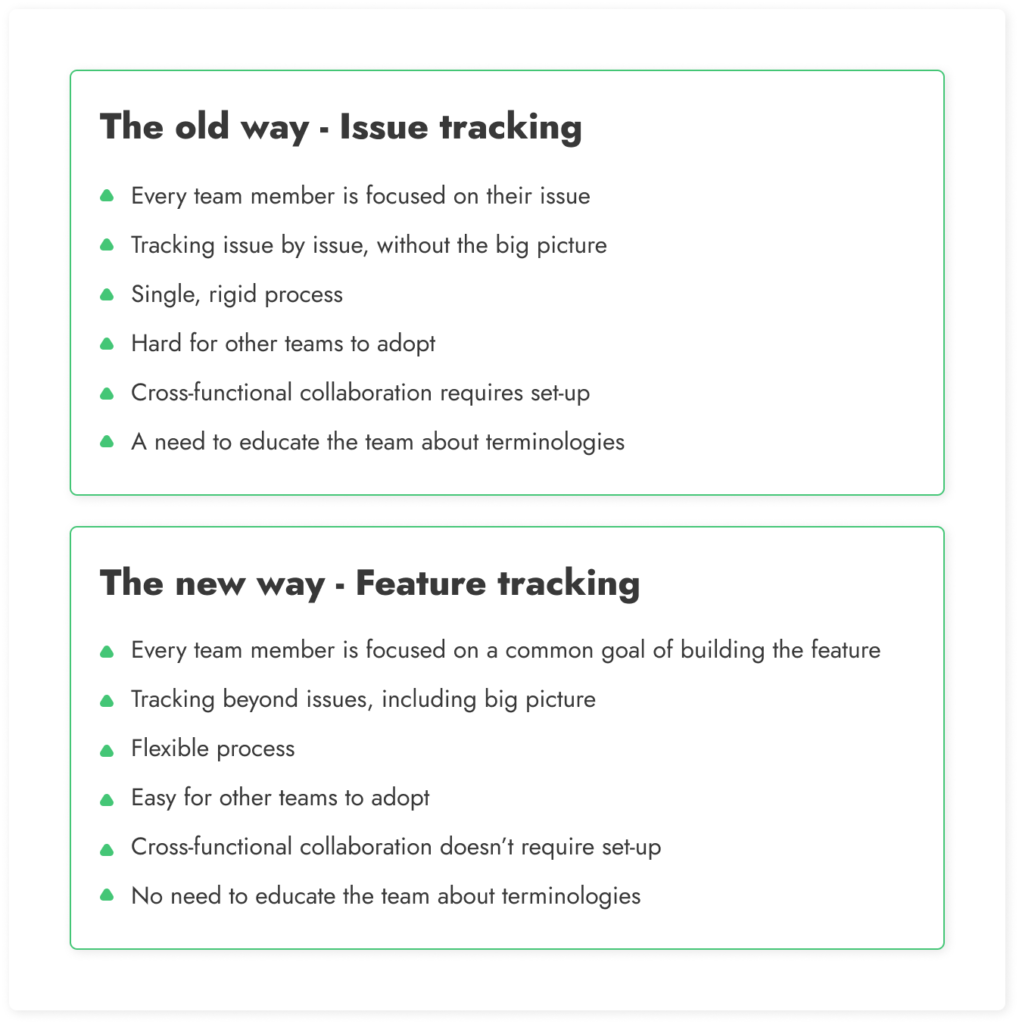 What is feature tracking?
Feature tracking is the process of updating the progress of features in every discipline involved. That means that feature tracking provides managing every member's tasks inside of a common goal. It helps to hand over tasks and eventually deliver the feature.
Managing the scope
One of the first answers to what to look for in project management software is functionality. A very important criterion for software selection in project management is the decomposition of scope.

Indeed, requirements management is one of the most used features in project management tools. That having in mind, before efficient requirements management, you need to have efficient scope decomposition.

The way of how the project management tool does the decomposition of scope should match your team's needs.

With this in mind, make sure you check the feature for assigning tasks to team members. Using this feature, you should be able to see priorities and set deadlines. Some project management software enables you to organize tasks in different ways. For example, by department, deadline, resource, etc. Make sure you know which way works the best for you before checking the tool's features.
Further, some apps notify the responsible team member when a task has been assigned to them. They also have a visible deadline and notifications about them.
Visibility
Right after the functionality of the scope, there comes available views. Sometimes even if the functionality is good, tasks won't be understandable without good visibility. Therefore, one of the important things of ​​what to look for in project management software is visibility.

Good project management software gives you transparency with various views of the project setup. A view is a graphic schedule of your project progress that gives you details that you need. For example, the task owner, the assigned members, deadline, and percent complete.
These visual features can come in many types. Some of them are:

Calendar overview
Gantt Chart
Network view
Resource diagram
Cost view
However, before including all of them in your project management software evaluation criteria, ask your team how much would they use it. In general, the most desired PM tool features are Gantt and the burndown charts. The following are automated workflows, velocity charts, and product road mapping.

At the same time, the most ignored features in PM tools are velocity, Gantt, and burndown charts. It is easy to see that these two things are overlapping. The answer to why that happens lies in the bad estimation of team needs.
Usability
Nobody likes to work in an environment that isn't clear and pretty. The same goes for PM tools. A poor confusing interface makes it difficult to navigate tasks. On the other hand, a simple and clean interface means a better user experience. A pleasant and empowering appearance make the user use the tool more.
The tool should be comfortable to use for the one who will use them. According to Capterras PM Software Market Research, project team members make 55% of the main PM software users. Further, dedicated project managers make 27% of the software users.

Therefore, before choosing, have in mind who are going to be the most frequent users of the software.

Also see: 🚀 Productivity tools for software development 🚀
Why it happens?
Many project management tools are designed by someone who hasn't work in project management. There we meet the problem. As a result that, a lot of tools on the market make you scroll a lot or click multiple buttons to find the specifications you are looking for. This slows down your process and causes frustration. 🙂

A good practice to evaluate usability is to try out few realistic samples. Create a scenario and try to see how would it work out in that tool. Useful would also be to include coworkers and stakeholders in software evaluation. This way you can check how the workflows and collaborations will work out in the team.
Ease of sharing
When working on a project, it is all about giving the right people the right information. For the purpose of that, you want to have an easy way to share information. Information can include charts, comments, discussions, contacts lists, schedules,s and much more.

Some software provides better sharing features than others. They can enable integrating with Dropbox and Google Drive. For many of the projects, you will need to include stakeholders in the progress. Sharing project documents should be easy to do to external partners as well. These applications give space for project documentation. Also, they can enable just shareable links for example to Sharepoint.
On the contrary, JadeALM provides a single truth source where you can upload documentation directly inside the project management tool.

Integration capabilities
Project management software has more value if it can take inputs from other apps by itself. The same goes for delivering its product to the destination. That means if it has integrations with other applications.
Depending on your needs, you could use integration with the emailing system. For example, the PM tool can send an email notification about changes in the project. If you use Outlook, you would want to have integration with Microsoft Office 365.

Other examples of integration are with accounting software or design software. Your industry niche and company size affect the integrations to look for in project management software.

Migration process
The migration process is one of the first things you will need to think about when working with the PM tool. Also, if you ever want to change the PM tool again, it will be a big factor.

In both cases, you have to migrate your documentation and parts of projects in progress. To trick all the inconveniences with that, make sure the transfer process can be as easy as possible. Another thing to keep an eye on is to guide through every step of migration.
The cost
Project management software is often licensed per user. Therefore, the total cost depends on the number of people using it. In other words, the price can reach high levels if you have multiple teams with many users. To avoid negative surprises about the price, cost should be included in project management software evaluation criteria.

When checking software options, have in mind these factors:
The nominal license or usage fee per user
The licensing cost the application instance
Even if the single cost for all team members seems to be easier to calculate for big teams, consider if there are any payable add-ons. Many of the tools have additional functionalities that you can buy separately. Needless to say that you should evaluate if your team needs any of those.
Conclusion
Your organization depends on the success of its projects. For running successful projects, you need to have a good technical background to support them. Project management software should help you with it. It should enable transparency, easier collaboration, and an overview of accountable team members.
Thus, when choosing a project management tool for your team, pay attention to the evaluation of your requirements. The set of criteria we have given you in this paper is a good starting point. Make sure that criteria such as usability, feature tracking, and performance match your team's needs.