ClickUp vs Jira: 2022 Software Comparison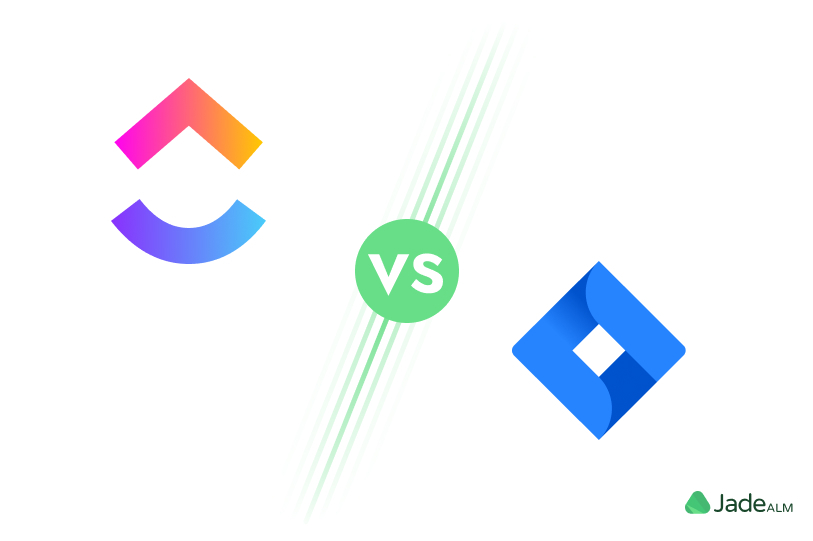 Jira vs ClickUp is a question many want to get answered.

Whether you want to get a new project management tool, a productivity tool for software development, or you are just curious, we will have you covered.

Jira tool is purpose-built for dev teams, while ClickUp can be used by a wider range of teams. While Jira is designed for developers, ClickUp is designed for anyone who wants to organize a project. Both of them are classified as project management and issue-tracking tools.

There are a lot of project management software criteria to think about before choosing the one for you.
Before we dive into comparison ClickUp vs Jira, let's first see a little bit more about each of them.
What is ClickUp?
ClickUp is one of the many project management software with a free plan. It is a cloud-based platform suitable for all sizes of businesses. It centralizes company information into one solution. Standing for an app that replaces all the other apps, provides multiple views for workloads.

Its goal is to provide a single app that does all the work you need for project management. It contains spreadsheets, reminders, calendar views, conversations, documents, maps, and many others.
ClickUp's goal is to save your time by decreasing clicks. They say that there is no need to perform two clicks when you can perform one. In other words, there is no need to use multiple platforms. Instead, you can have it all in one.
Since the same solution doesn't work for everyone, it is very customizable. You can adjust the features you need, work status, colors, and themes.

Also read: 🚀 ClickUp vs JadeALM 🚀

What is Jira?
Jira Software is a tool for agile teams to help plan the project, track, release software and report their progress. It is created especially for agile teams. As a part of Atlassian, it has great integration options that enable teams through the process.
Jira presents that its thousands of integrations and apps help your team to combine workflows. Its purpose is to help teams to collaborate and progress faster through the project. While its purpose is to make teams collaborate faster, there are a lot of users looking for the answer to "why is Jira so slow?".
Jira enables each software team to customize the software for themselves. It has parts like Jira Work Management and Jira Service Management that should connect you to other apps.

Eventually, Jira says that it is the industry leader with 65 000 customers worldwide that use it. The question is, how many of them are satisfied. Might be useful to check ClickUp vs Jira features to better understand them.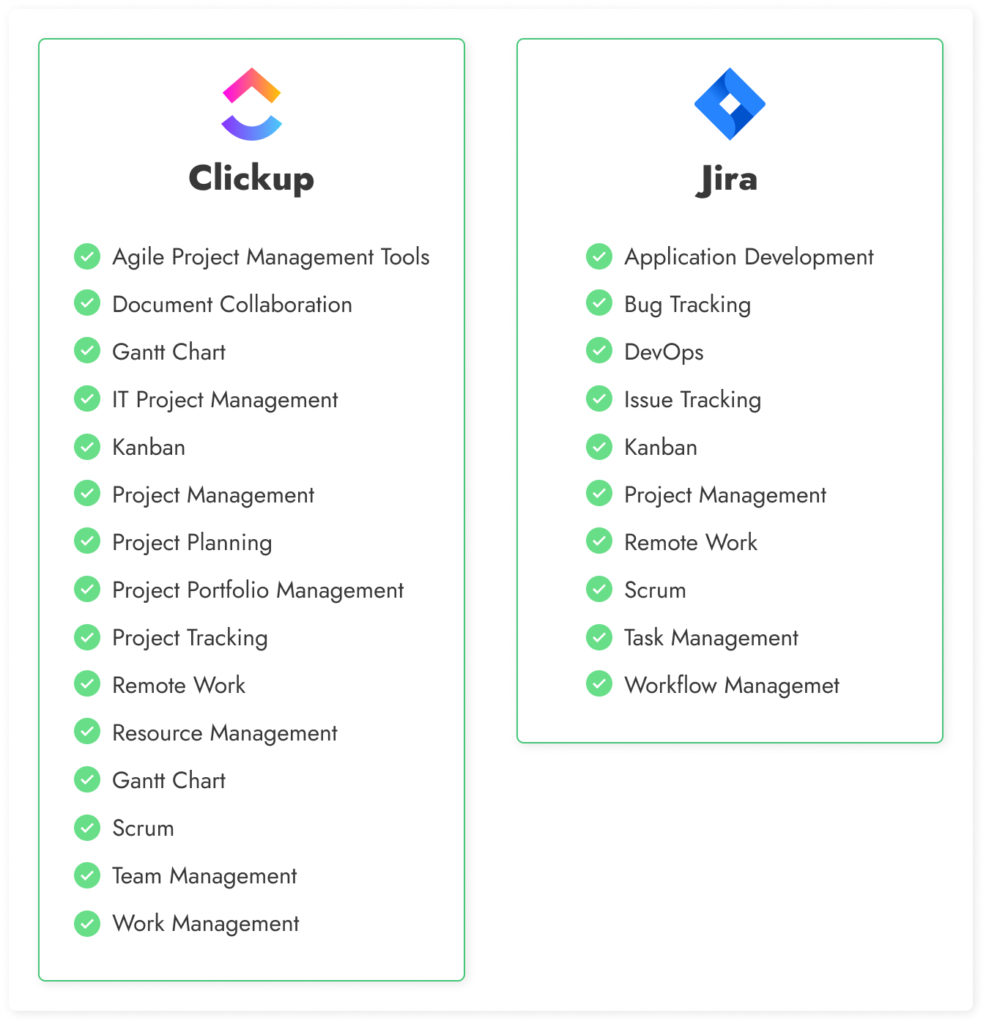 Also read: 🚀 Jira vs JadeALM 🚀
ClickUp Advantages
Both ClickUp vs Jira can be useful in some work environments. Let's see the plus sides of ClickUp.
Suitable for small teams
ClickUp works well for small teams and freelancers. Their customers are startups, SMEs, enterprises, and freelancers. On the other hand, Jira is not a good solution for freelancers.

It is both playful and engaging. For teams that have experience with PM tools, the interface is simple and understandable. In this case, small teams don't need special learning. Since it provides a lot of features for managing daily activities, it is helpful to solo users.
Task Hierarchy
When it comes to hierarchy, ClickUp vs Jira, ClickUp makes it by dividing tasks into WorkSpaces, Spaces, and Folders. When you click the particular folder, you can also see divided tasks and subtasks into Lists, Tasks, Subtasks, and eventually Checklists.

This is a great way to keep your tasks organized. With the huge amount of subtasks and tasks, it is easy to lose track. Moreover, losing crucial information is one of the biggest struggles in agile project management. Task hierarchy helps you find important information quicker. However, ClickUp doesn't provide hierarchy inside of one document with requirements like JadeALM does.

Dashboard view
ClickUp provides a lot of options for overviewing your project. Whether it is the Gantt chart, workload view, table view, you can see your project in a simpler way. Dashboards make it easier to see the bigger picture of the project. Different graphics perspectives enable better insight.

Also check: 🚀 Gantt chart in JadeALM 🚀
Assigning Comments
With ClickUp you can assign and resolve comments. It offers to assign comments for a specific team member or a whole group. You can do it on any hierarchy level in your WorkPlace. Moreover, it is possible to mention someone inside the existing comment.

After you assign comments, you can mark them as resolved or as in progress. You are also enabled to create custom statuses for comments. It is important to realize that when you mention someone's name in the comments, they will get a notification.

See also if ClickUp is better that Asana!
Jira Advantages
Jira is one of the most popular projects management tools. It sure has a lot of advantages. Let's check them out.
Available integrations
Maybe one of the best advantages of Jira is its integrations. It offers a huge number of possibilities and integrations you can use. There are more than 3000 apps available for integration at the Atlassian Marketplace.
For example, you can integrate Slack, Hipchat, or Trello and communicate projects easier. These tools makes your asynchronous communication quicker. Also, you can integrate other tracking, kanbans, and contacts feature to help you with specific tasks. 
Reports
Jira enables you to make reports for decision-making. Critical insight of scrum, kanban board, or other agile methodologies helps data-driven decision making. Also, it provides customizable dashboards and module development.

Also check: 🚀 Kanban board in JadeALM 🚀
Jira offers five predefined reports. Status per Assignee enables to check tasks by employees. Another one is Issue Type per Status that provides monitoring ongoing tasks in your team. The third one is Fix Version per Status. It shows how far are you from the release. Assignee per status chart shows who is overloaded in a team. Fifth, the Priority per Assignee chart shows what tasks are the priority.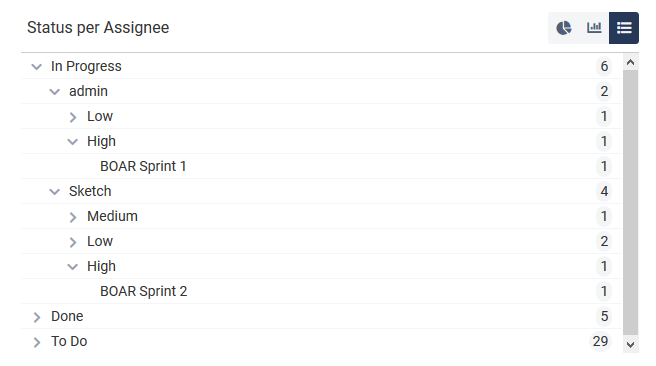 With the Releases function, users can view real-time reports and see if the latest version is published. Users are able to download the graphics reports of each sprint. However, it is not possible to download them as images and reuse them.
Development oriented
While ClickUp can be helpful to various kinds of projects, Jira is more oriented to the IT sector. Jira offers extra features for development. One of them is Bitbucket. Bitbucket allows developers to collaborate in coding, testing, and issue tracking.
The platform also utilizes its own query language through which developers can tweak functions and add filters. Together with the Release function, Jira's task management tools, and customized workflows, the entire process is streamlined.
Why does ClickUp make Agile teams sad?

ClickUp also has some disadvantages. Let's see why we don't like them.
Long Onboarding Process

Setting up the new project management tool is kind of a challenge. Since the ClickUp is comprehensive, there are many ways you can onboard. Finding the right way for you takes a lot of time and effort.
Moreover, to take maximum advantage of this tool, you should prepare in advance and streamline the whole implementation. Otherwise, you could mess up the processes because of complex design.
Too many features
ClickUp has a lot of features. Even though it is good to have a lot of features, the majority of them are not used. Research shows that visualization features like Gannt and Velocity charts are the most ignored ones. In other words, you don't have time or desire to use all of the features out there. Too many features distract users, confuse them and could leading projects off track. Jira, on the other hand, does not provide so many visual features.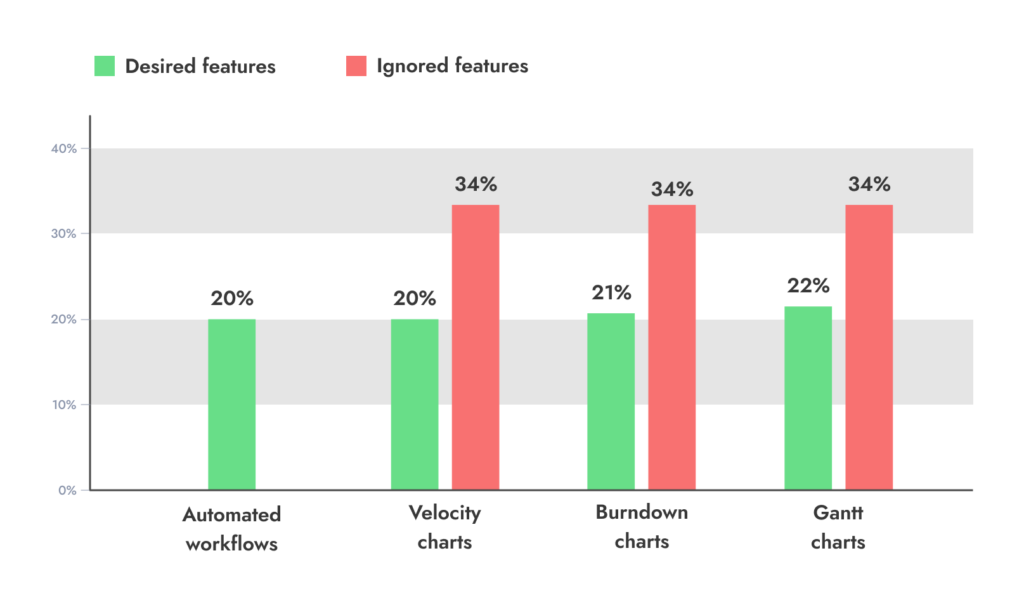 Moreover, some of the customers are overwhelmed by the variety of options. Initial set-up with a lot of features is more confusing and time-consuming. Further, more features require a longer learning curve. Without good preparation, teams cannot decide which features to focus on.

Also read: 🚀 ClickUp vs JadeALM 🚀
Too much customization
Having the possibility to adjust everything to yourself seems like an advantage. However, after some point, it starts to be more disadvantageous than advantageous. Too many options confuse the user and distract them.

When the user needs to choose among many options, they often don't know what is the best option. That leads to not optimal use of the tool's features. Too much customization might be overwhelming.
Too complex
Too many options and features confuse people who work as individuals. Some of the features seem illogical. Further, the android app lacks a good user experience. The learning curve for someone who doesn't have experience with PM tools is long.

Specifically, the hierarchy of folder, list, and task is not clear. For tracking the work, one should now use the right terms to describe where in the project they are. Eventually, confusion in user journeys leads to losing documentation and a waste of time.
Why is Jira so slow?
Unfortunately, there are a lot of people complaining about Jira's functionality. There are many different agile methodologies that Jira doesn't support. Let's go through the reasons why Jira makes Agile teams sad.
Learning curve
First, setting up is complicated and takes time. It takes time to integrate Jira with other software that you use. Second, after you set it up, you need to learn how to use it.

Many users of Jira complain that the learning curve is pretty steep and complex for new users. The interface is not intuitive. This complexity might be scary for small or middle-sized teams. Bigger teams that use Jira will need a lot of different apps and plugins to successfully manage their projects with Jira.
Because of the long learning curve and required training, Jira is not a suitable solution for freelancers.
Slow UI
It is not a secret that Jira often has server problems. When that happens, it is impossible to track ongoing work. In addition, too many features make it slow. Because of adopting very many technologies under one roof, the UI can be inconsistent. The user interface requires waiting between screens loading which is annoying.
Another thing that should take some acceleration is issue tracking. Tracking the issue, or tracking the feature is not customizable and fast. It takes much time to actually find what you are looking for, especially in big projects. Further, after you find the issue, there are not many options for commenting on it. The comments on the issue aren't intuitive.
No Multiple Assignees
It is still a challenge to solve complex tasks that require more people that work on them. Jira doesn't provide the option to assign multiple team members to one task. In big cross-functional teams that causes a lot of confusion.

On the other hand, when two people work on the same task, they don't do the same thing. JadeALM solves this problem by good hierarchy and visuality of hierarchy. You can divide one task into smaller subtasks and assign each subtask to an assignee that works on that specific part of the work.

After that one specific subtask is finished, it stays under the task and is easy to track. Moreover, to help track tasks and subtasks, JadeALM has a single source of truth. This means that synchronization tasks ensure tracking the progress without manual updates.
Ineffective for Non-Development teams
Jira was created with development teams and DevOps in mind. After you log in for the first time, you can make sure that this is quite obvious. Teams that are not development orientated don't find much value in Jira. Because it lacks day-to-day utilities it is not helpful to marketing agencies, finance, and sales organizations, and human resources teams.

Also read: 🚀 Jira vs JadeALM 🚀
Repeating tasks
If you accidentally click on the wrong name, the submitter gets a notification when it is assigned,
and then another notification when you fix this by assigning it to the correct name. It can sometimes be complex navigating around and may need some getting used to. Sometimes needs refreshes in order to check for the latest changes in a sprint or during a backlog grooming session.
Overwhelming updates
Project updates in Jira sometimes affect present features and breaking projects. Affecting features that are in use for ongoing projects, requires new setting up. This works in case your team has someone who administers all the updates and changes in projects.
However, most teams don't have a special person for that kind of work. As a result, all the updates seem overwhelming and confusing.
Jira does not provide feature tracking like some other software. For example, JadeALM solves this problem of project updates with feature tracking. This means that the software monitors the development and saves all the information about changes in the feature. Specifically, every update is automatically synchronized, visible and clear who made it and when.
Free ClickUp vs Jira features
Both ClickUp and Jira have many useful features. Board and backlog, workflows, and roadmaps are some of the features they both provide.
Even though having a lot of features seems advanced, it often causes more trouble than use. With this in mind, a good project management tool should simplify the project instead of making its management complex. Project management software should be a combination of well-chosen and useful features and not the competition in feature number.

Both ClickUp and Jira provide a lot of features but eventually, they both still fail in many things. They both are issue-tracking tools where each user is focused on their chunk of work.
Pricing ClickUp vs Jira
Jira gives you access to some features for up to 10 users. After that, pricing is set per member for standard and premium service. The standard offer is 7,5$ per user and the premium is 14,5$ per user.
ClickUp has a complex pricing plan. It is free for personal use. For small teams, the price is 9$ per month per user. For mid-sized teams, the price is 19$ per month per user, and for multiple teams, the price is 29$. However, when you want to upgrade features, the price goes up.
ClickUp vs Jira: Which one to choose?
You could think that most people use Jira so it must be good. Have in mind that more and more people appreciate the popularity of the software while the functionality is decreasing criteria for software selection. However, there are many software project management challenges and opportunities for which you will need a good tool.

All things said ClickUp is a great tool for general project management purposes. You can manage projects in marketing, sales, finance, and many other kinds. But just like other things that try to be all-in-all, ClickUp is a jack of all trades, and master of none. ClickUp's huge number of functionalities might be interesting for non-IT teams, but software development teams need more dedicated, full-fledged agile tools like JadeALM. 

JadeALM is also one of the rare project management tools that include WBS.

Work breakdown structure is a feature that helps you to see project structure clearly. JadeALM also automatically sync that structure in both editor where requirements are and WBS chart.
6 questions to answer before purchasing the PM tool?
Rather than providing you the straightforward reasons why JadeALM can be a great fit for you, I will set 6 understandable yes/no questions.

That will help you understand the requirements your PM software must have and to learn what JadeALM can do for you:

Would you like your PM app to collaborate with squads of any size?
Do you need powerful agile capabilities to help implement WBS, Kanban, or both?
Do you want your PM software to be developer-orientated?
Would you like your PM tool to help you keep the focus on feature planning?
Does affordable pricing make an impact on your choice of PM tool?
Would you like your PM tool to help you save time on manual updating changes?
If the answer to all the above questions is a 'Yes' for you, give JadeALM a shot; you won't be disappointed. 🙂